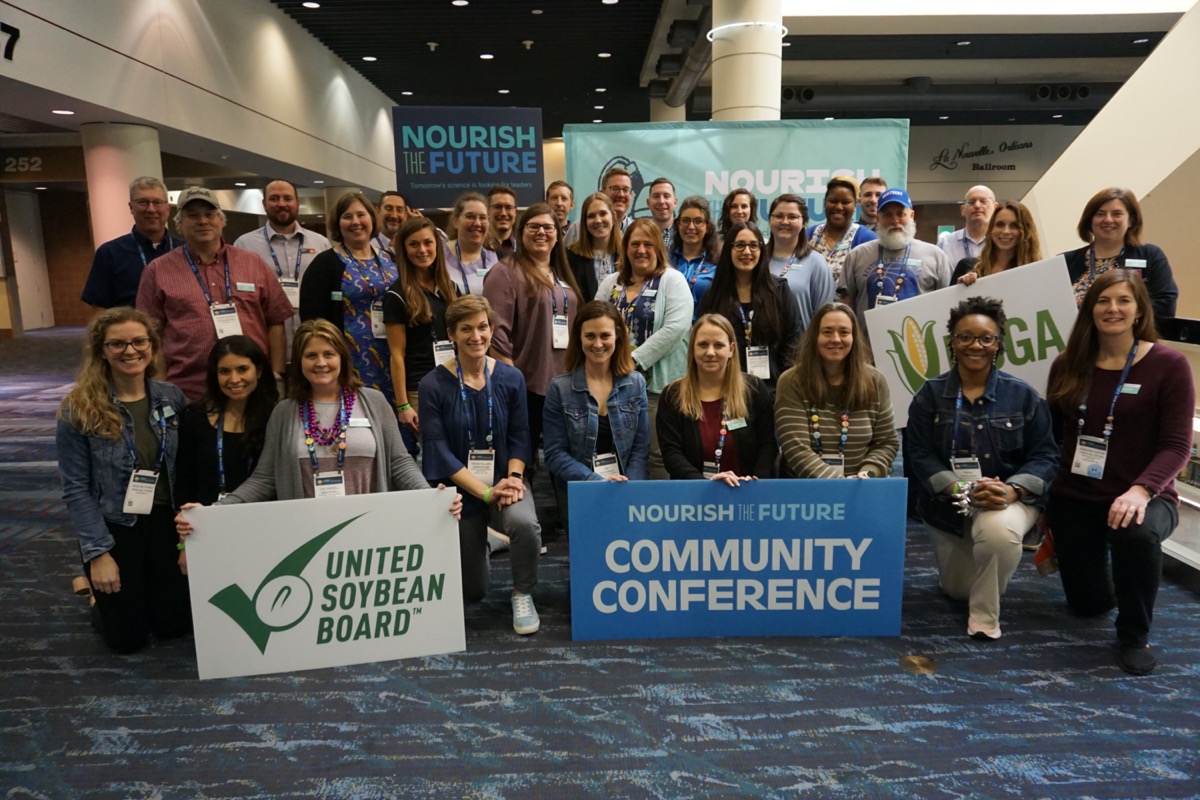 Global Impact STEM Academy science teacher Shelby Dodds attended Commodity Classic 2022 in New Orleans. Commodity Classic is America's largest farmer-led, farmer-focused agricultural and educational experience. Her participation was made possible thanks to the generosity of the Ohio Soybean Council and GrowNextGen.
While there, Dodds participated in a Nourish the Future science workshop, sponsored by National Corn Growers Association and the United Soybean Board, and received supplies for science lessons in her classroom.
What was an a-ha moment from your time at the TLC conference/Commodity Classic?
The Commodity Classic gave me a new perspective of the science curriculum and how to explore pathways that are not typically taught in traditional classrooms. Speaking and engaging with other teachers made me realize how much research has impacted our current society of agriculture. Agriculture education is a stepping point for students to understand how they can impact their future. As a student who grew up in a rural school, I did not have to reach out for information about agriculture because it was in my backyard. For students that did not have the same opportunities as I did, I was given a new perspective, a new way to reach them. All of the teachers at this conference were shocked at the amount of agriculture you could implement in traditional science programs.
How will you use the materials with your students, and why is it important to expose them to these topics?
Exposure to agriculture can be overwhelming—even by talking to other teachers from different educational backgrounds, I got more viewpoints from them. Hearing their 'a-ha' moments made me excited for the future of agriculture in non-agricultural classrooms. Agricultural education involves more than just teaching students the basics of seed production or how to judge livestock. It provides the opportunity for people to understand that agriculture is not just farming; it's a sustainable way of life. Sustainability is a key component to apply in everyday life and experience rewarding outcomes.
How do you think the lessons and materials might help influence students' career choices?
Every science lesson learned is definitely in my "teacher toolbox" of activities and projects, but one thing that stood about to me was perspective. Perspective was a big theme in my week in New Orleans— understanding others and their personal experiences and connections to agriculture. Learning the importance of stakeholders and viewpoints of agriculture is a way to cultivate minds to consider ideas from all angles. Opening different pathways creates more opportunities for students to explore culture, to help dive into more career opportunities in the future. This will create another way for students to appreciate one another and where they come from. Many students may never have a career directly or indirectly related to agriculture, but the skills they learn in the classroom can be applied to any career that they choose.
What would you like to say to the Ohio Soybean Council who made your participation possible?
Thank you for offering me a chance to connect with the industry and other science teachers involved with the education of students' exploration. Your organization makes a difference in and out of the classroom, and I am excited to share all the opportunities and projects offered with each opportunity given. Your contribution to education will create an invention, idea, and passion that our students in the future will create. They are our future; so again, thank you!