Ag Biotech Academy, sponsored by the Ohio Soybean Council with support from Pioneer, has been a popular summer workshop since it began in 2013. This year the level was 'stepped up' to provide more in-depth training for teachers—hence the addition of the word "Graduate" to the title.
The two days of intensive learning at Otterbein University began with a greeting from OSC's Tom Fontana. Alexandra Knight, field agronomist with Pioneer, talked to the teachers about the history of agriculture research and how biotech is helping face the challenge of feeding a growing population. Despite having less arable land, farmers are increasing yield due to new traits in seeds. "Biotechnology is a toolbox to make things easier in developing new varieties through predictive plant breeding," Knight said.
The workshop participants were able to complete a variety of activities to help them understand more about biotechnology's connection to agriculture.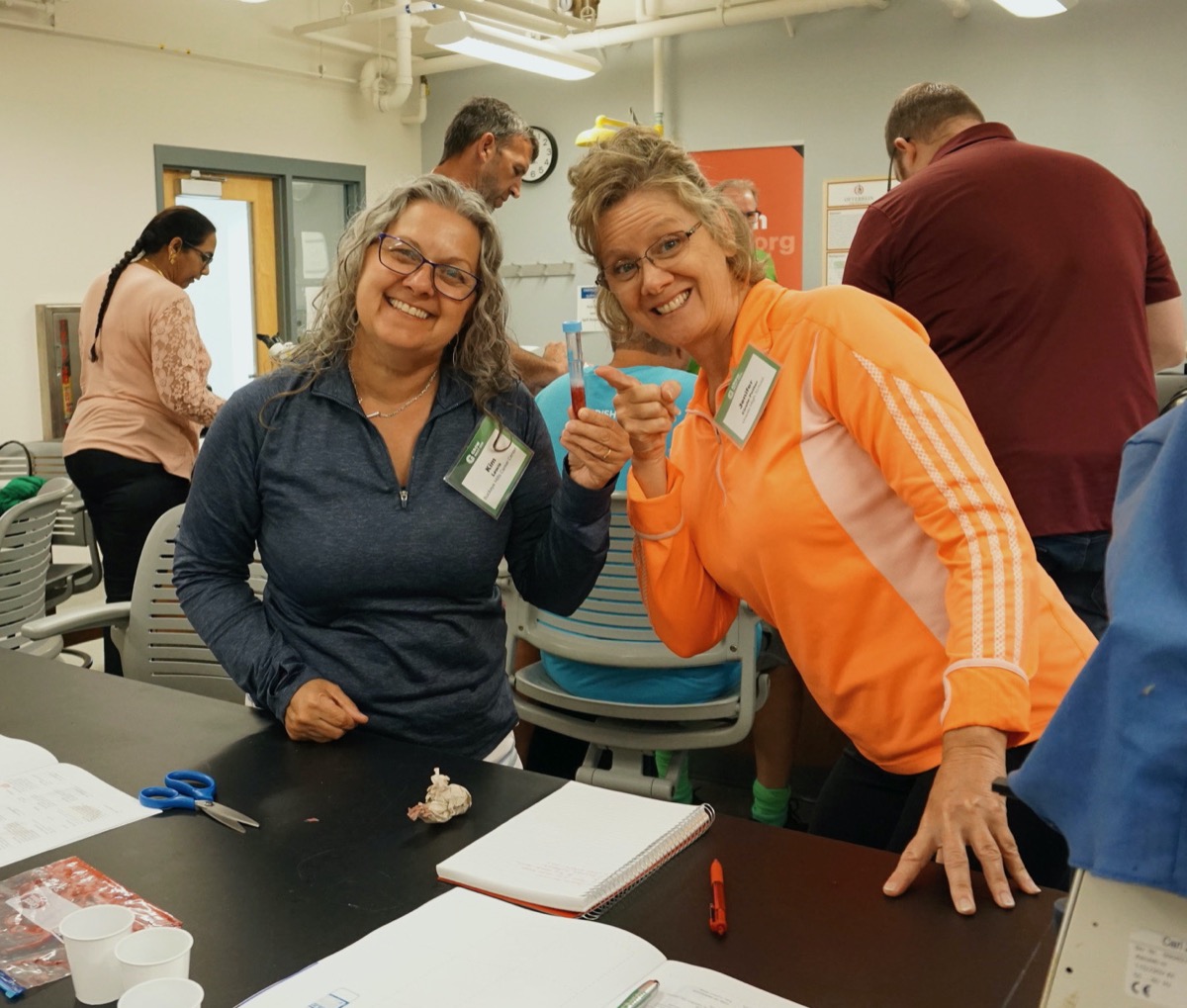 Presenter Zack Bateson of the National Agricultural Genotyping Center began with a DNA extraction lesson. While this activity is a familiar one in high school classrooms, the twist of developing their own protocol got the teachers excited about using this with students. Next, Bateson presented a musical PCR lesson developed by HudsonAlpha. The PCR technique is used to detect bacteria or viruses in disease diagnosis and to assist scientists in the development of GMOs, among other applications.
Bateson also presented lessons on phylogeny using bioinformatics and using the NCBI database to identify viruses through DNA sequences.
Co-presenter Jamie Allison teaches biotech at Loveland High School. Allison is a Bio-Rad Explorer Fellow and shared two Bio-Rad activities. The first, Out of the Blue, is an introduction to CRISPR-Cas9 gene editing technology. Participants learned how to edit DNA, turning it from blue to white. This shows how beneficial genes can be added to crops or used to cure diseases. Got Protein?, the second activity, was a protein analysis using a Bradford assay. The participants tested almond, oat, and soy milk; soy protein powder; and dry milk powder.
Jerron Schmoll, Product Lifecycle Manager at Corteva Agriscience, spoke at the industry dinner about the mechanics of CRISPR and how it is being used at Corteva in agriculture. The workshop wrapped up with a field trip to Waterman Farm to learn about the research done there. Participants received their choice of the Bio-Rad kits as well as other classroom supplies worth $200.
Join us for great events like this, provided free through the generosity of Ohio Soybean Council and other sponsors! Watch our website and social media for more information.